My grandmother and great grandmother taught me to crochet, back then it was baby clothes and coat hanger covers. Now I like to be a bit more adventurous and creative, but time is an issue. So as of yet on my to do list of things to create are amigurumi toys. Usually crochet – but can be knitted – character toy and they are so darn cute. Originating from Japan, typically animals, but can include artistic renderings or inanimate objects endowed with anthropomorphic features. Once you have mastered the basics you could go on to create your own amigurumi collection. They will make great gifts for littlies and a few biggies I know.
Here are a few freebee patterns I have stock piled and hope to make in the near future-
Deadpool – Though a bit mature the movie my 11 year old son thought it a hoot and would get a kick out of his own deadpool man.
http://www.thegeekyknitter.co.uk/2015/10/amigurumi-deadpool-free-crochet-pattern.html
Winnie the Pooh and friends. Baby shower coming up, everyone loves winnie the pooh, piglet, eyeore and donkey.
http://www.sabrinasomers.com/free-crochet-pattern-winnie-the-pooh.php
Rainbow Unicorn, just begs for some cupcakes to make a statement set, works for little girls or big.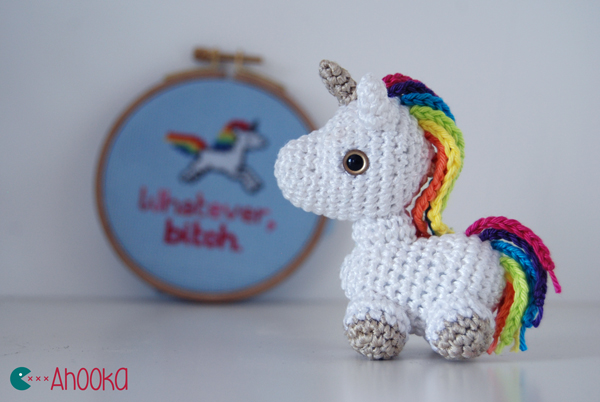 www.ahookamigurumi.com/tiny-rainbow-unicorn-crochet-amigurumi-free-pattern/
Cheeky Kittys – I just love the eyes and smile, such character, I can see potential in many colours too.
http://smartapplecreations.blogspot.com.au/2015/07/free-crochet-pattern-cheeky-kitty.html
Horsea Plushie, any pokemon at the moment, with the trend for classic kids games and pokemon go. You wouldn't be able to stop at one. Luckily found a website that has heaps of them, yay.
http://wolfdreamer-oth.blogspot.com.au/2010/01/horsea-plushie.html
Baby Dory- Adorable and on trend, those big eyes give so much charm, maybe a good stocking stuffer to accommodate the movie.
http://lupitas423.wixsite.com/loopyyarn/baby-dory